After a break of a few years the Juniors headed north over the weekend  11/12th March on a short Manchester Tour looking for some serious competition and a lot of fun.
The early Saturday morning drive up the Ms 40 & 6 was untroubled until Junction 18.  It seems Junction 19 and the A556 was closed so that set us off cross country to our target Brooklands Lacrosse Club in Sale. We still managed to arrive in plenty of time for our morning game and were welcomed by our friends at Brooklands.
In our first game in Manchester we were on the wrong end of a bit of a drubbing – but a lot of useful, basic lessons were learnt so not everything was bad. After the game we were entertained with true northern fare – soup, chips, sandwiches and more chips!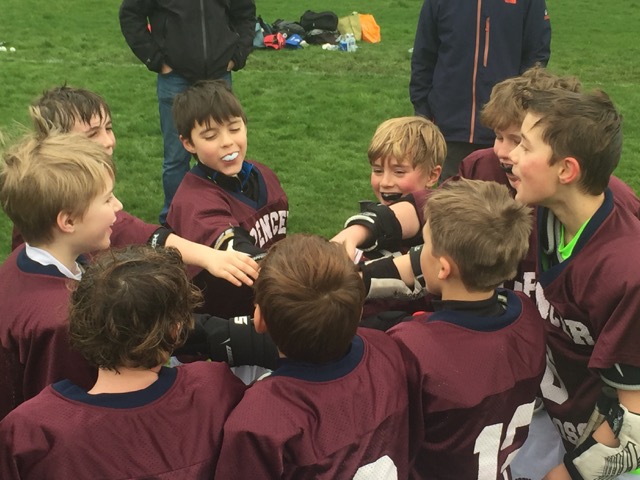 We watched the first quarter of a Northern Flags Semi-Final – Cheadle v Stockport that afternoon.  A really good standard of play but we stayed there a little too long and we made it over to Hyde Leisure Pool just too late to get in. A bit frustrating!
An evening meal in the Scout Hut (a rather posh hut) in Bramhall, with some of the travelling Dads roughing it overnight in the Hall was followed by just remembered games (old Northern Tourers can explain the games and rules).   And then to bed (well, mats and sleeping bags).
The Sunday morning games against Timperley and Stockport were hosted at Stockport despite terrible weather – were really lucky to play.  The lessons learnt on Saturday provided the foundation for two really good wins – the first 'W's' in Manchester for this team. Go the u12s!
Few problems on the road home saw all safely back in London at around 5.30pm.
Thanks to our host friends at Brooklands, Stockport & Timperley.
A great success – we will return in the coming season.