Spencer vs American Revolution
---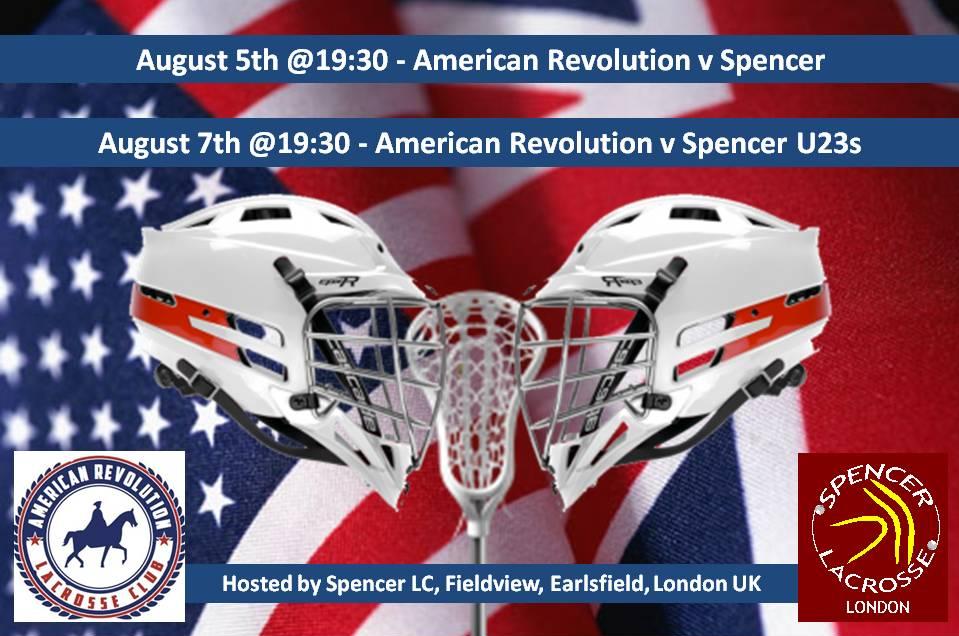 The now annual visit of our friends from across the pond, this year travelling at the American Revolution. It will be the third such visit, on their way to play in the Copenhagen Cup in Denmark.
A recent update to arrangements is that, alas, they are now unable to bring across a women's team as they could not secure entry in the Copenhagen Cup women's competition.
The game schedule has been tweaked accordingly.
Game Schedule
Monday 5th August 7:30 pm Spencer Seniors vs American Revolution
Provisional Squad
Goal:
Rick Bone
Defence/LSM:
Jonny Clarke
Tom Leahy
Alan Keeley
Hugo Hobson
Jamie Muir Wood
Ed Thom
Midfield:
James Mearns
Tim Holdsworth
Joe Darkins
James Sweetman
Mike Sheahan
James 'Moose' Morrison
Rob Arnott
Attack:
Rob Holmes
Jarrad Pangrazio
Will Walker
Wednesday 7th August 7:30 pm Spencer U23/Youth vs American Revolution
Provisional Squad
Goal:
Joe Chomet
Defence/LSM:
Roo Cheetham
Bill Fisher
Ben McLellen
Will Clark
Midfield/Attack:
Jobey Keane
Jamie Stagg
Cameron Leslie
Will Barrie
Will Walker
Alan Keeley
Josh Puddle
Dan B
Dan Hilton
On both evenings, the astro pitch will be available from 7pm to warm-up.
Read last year's match report.