Men's Lacrosse - Champions of England
Following up on their success as this season's South of England Premier League Champions and Flags winners, Spencer Men's 1s faced Northern champions Cheadle in the National Championship Game held on 8th May at Moulton College, Nottingham – an odd choice of venue but that's the English Lacrosse for you!  Well, you can find the trophy, The Iroquois Cup, sitting proudly on top of the trophy cabinet in the Spencer Clubhouse!
As you would expect, the Championship Game was close with Cheadle jumping out to an early three goal lead which Spencer clawed back as the game progressed with Spencer taking a one goal lead into the final quarter.  In the final seconds Cheadle tied the game - golden goal overtime approached.
Winning the face off, Spencer had the first overtime shot on goal – missed!  Cheadle won the ball back and cleared to the Spencer goal.  A tense couple of minutes of followed with Cheadle probing the solid Spencer defence. A save from keeper Dwobeng and Spencer cleared the ball to the Cheadle goal.  A double split dodge from up top and Cam Leslie pops the ball into the Cheadle goal, just under the crossbar.  Champions of England!!!
The success was built on that mean defence which stayed strong throughout the game and midfielders Tom Bracegirdle and Tommos Rosser's complete domination of face off providing top scorer Will Walker the chance to shine.
Cam and Will, products of the Spencer Junior Programme, made the success extra special.  Cam's first taste of Lacrosse was PopLax in the Honeywell Ball Space.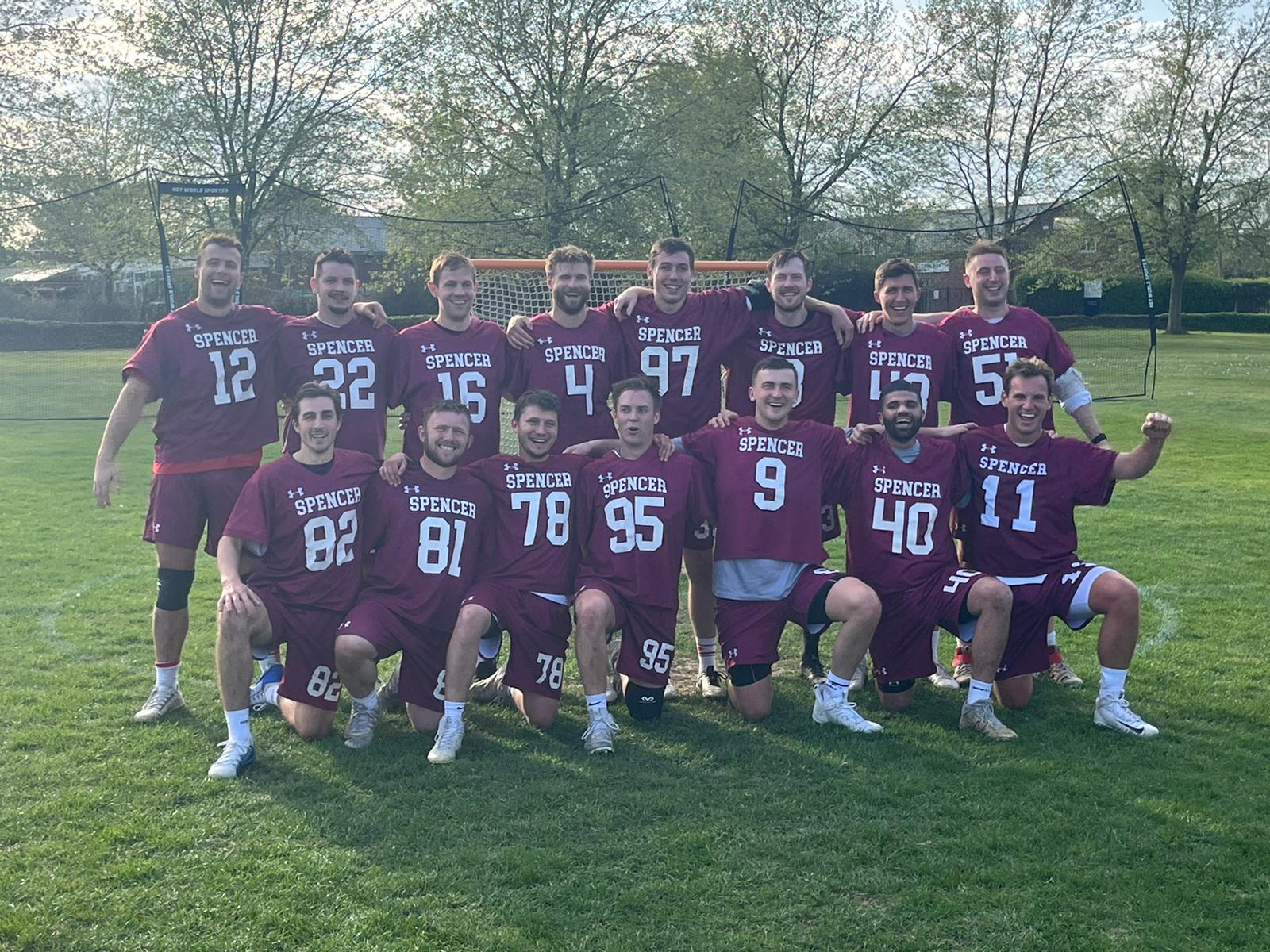 Spencer Men's 2's, playing in the Second Tier, had an equally dominant season being champions and winning the Flags in the second tier – a fantastic result which buttresses the success of the Men's 1's. Spencer Men's 3's & 4's all maintained solid mid-table positions.
A Fantastic 2021/2022 Season for Spencer Women
With midweek coaching led by Toz Anderson, our Women's programme regularly fielded two teams with home games being played on Sunday afternoons at Spencer.  The Womens' First Team achieved their long term goal being promoted to the South East Region Premier Division – a massive result in only the third 'proper' season of the establishment of Women's Lacrosse at Spencer.