Spencer's 1st team squad travelled North last weekend to tackle two of NEMLA's finest, Poynton and Wacs.
First up was Poynton in a mouth watering contest pitting reigning Southern Flags champions against reigning Northern Flags champions at The Dome. Dubbed the battle of the birds, all the pre-match talk was of how to contain Poynton's latest signing, Luke Goldstock of UNC and the Boston Cannons, along with Spencer old boy Sam Davidson who scored a hatful of goals against Cheadle in the Northern Flags final.
Played in driving rain, the opening exchanges were tight but Spencer got their noses in front when Will Walker struck with a lazer from outside in the first quarter. However, Poynton struck back and so the game settled into a tight affair where neither side was able to assert themselves or build a lead of any substance. As the rain continued and the pitch started to waterlog it became an increasing battle of attrition. Will Walker's accurate shooting, along with contributions from Tom Carver and Paddy Atkinson kept the scoreboard ticking while the Spencer D kept Goldstock, Davidson and the route one approach of Tom Giddings in check.
Despite this, as the game moved into its final minutes Spencer found themselves in need of a goal to level the scores. After some patient build up play, probing for a weak link in the tiring Poynton defence, Paddy Atkinson set off on one of his trademark dodges down the right-hand alley before cutting inside and finding the back of the net.
Both teams had chances to win it in the final moments but the goalkeepers at both ends held firm with the final score of 8-8 a fair reflection of play for two teams blowing away the summer cobwebs.
Goal scorers: Will Walker 4, Tom Carver 2, Paddy Atkinson 2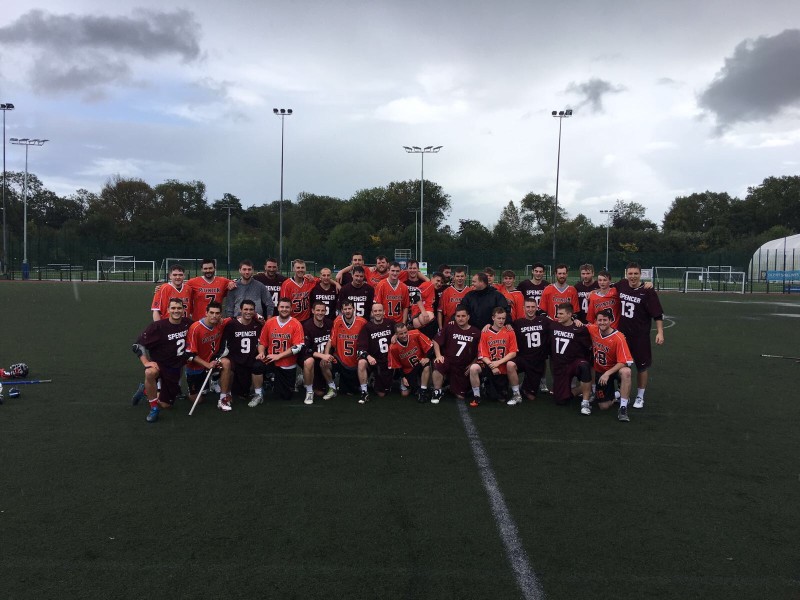 After some excellent Mancunian hospitality the previous evening, Spencer reassembled on Sunday morning to face Wacs. It's safe to say the opening 20, even opening 40 minutes were not vintage as sore legs and heads contributed to a slow start for the Sparrows. However, in the closing stages of the first half the men from Earlsfield were starting to find their rhythm. Heading into the second half the scores were tied at 4-4 but a second half shut out for Rick Bone and goals from across the team, including a rare foray forward from Tom Bailey for an unassisted goal, saw the tide turn for the men in maroon. The final score was 10-4 and rounded off an excellent weekend of work for Spencer as they continue to build towards an opening day fixture at Hitchin on 30th September.
Goal scorers: Tom Carver 3, Will Walker 2, Josh Dodd 1, Rhys Hill 1, Sean Keane 1, Jack Foster 1, Tom Bailey 1