Spencer claimed their first ever Bath 8's crown yesterday. Played in blazing sunshine at the impressive Odd Down Sports Complex in Bath Spencer's 11 man squad claimed group victories over Rochdale, Exeter, Welwyn, Aberystwyth, Ruthin and despite suffering defeat to Hillcroft, this was enough for the men from Fieldview to progress to the last eight.
The quarter final saw a re-match with an impressive Welwyn side who look in prime form for their return to the Premiership this coming season. The game was fast and frantic but the Sparrows secured a narrow victory to progress to the last four where another SEMLA rematch awaited in the form of Hillcroft who dispatched Hampstead in extra time in their quarter final.
Round two between the two south London rivals was a fierce encounter with Spencer playing with more control than earlier in the day and taking an early lead playing patient and accurate offence. However, Hillcroft came roaring back and a tense game finished 4-3 in Spencer's favour and saw them progress to a final with Sheffield Steelers.
The final, played out in front of a raucous crowd saw Spencer play their best game of the day coming out with a 5-2 win and taking home their first ever Bath's crown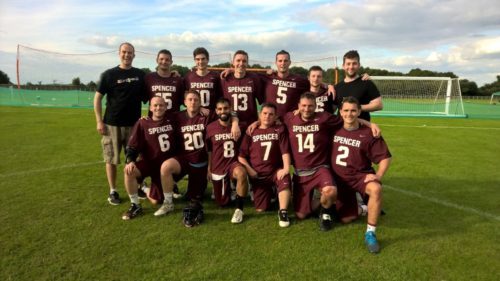 Back row left-right (Rob Holmes, Will Walker, Dom Sandy, Tom Carver, Ed Shee, Ben Leahy, Tom Leahy) Front row left-right (Joe Darkins, Tom Roche, Resh Panesar, Rick Bone, Rob Arnott, Paddy Atkinson
Looking ahead, preseason doesn't get any easier with a double header against Poynton and Wacs, two of NEMLAs toughest outfits next weekend before some of the finest lacrosse players from across the land descend on the Sparrows Nest for Spencer Day on 16th September.